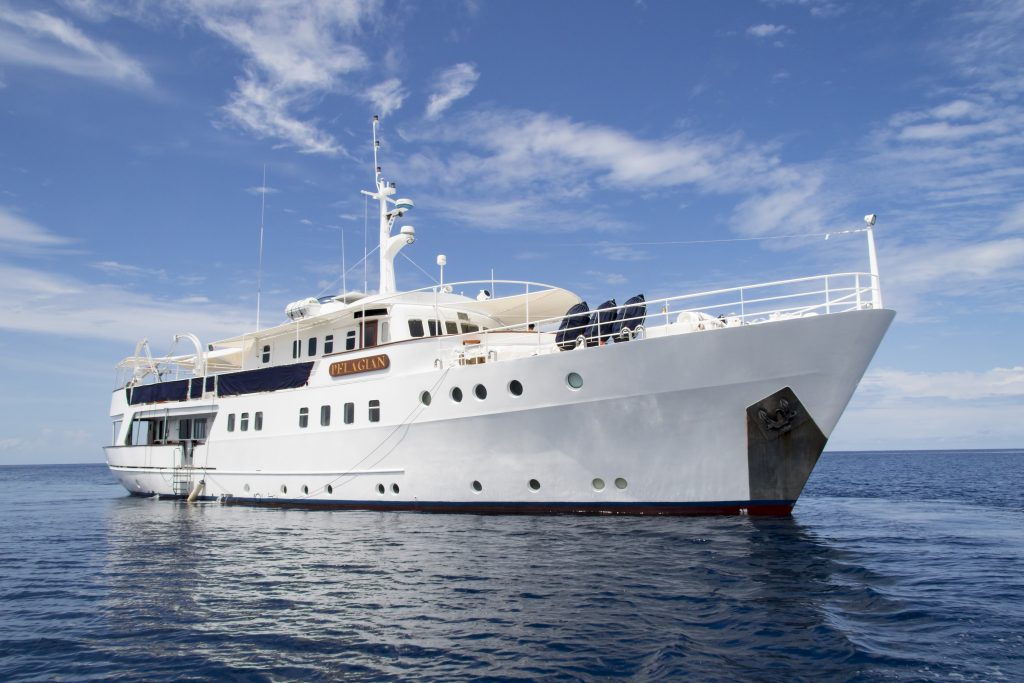 Contact us now to get a quote on the lowest rates and the best room options.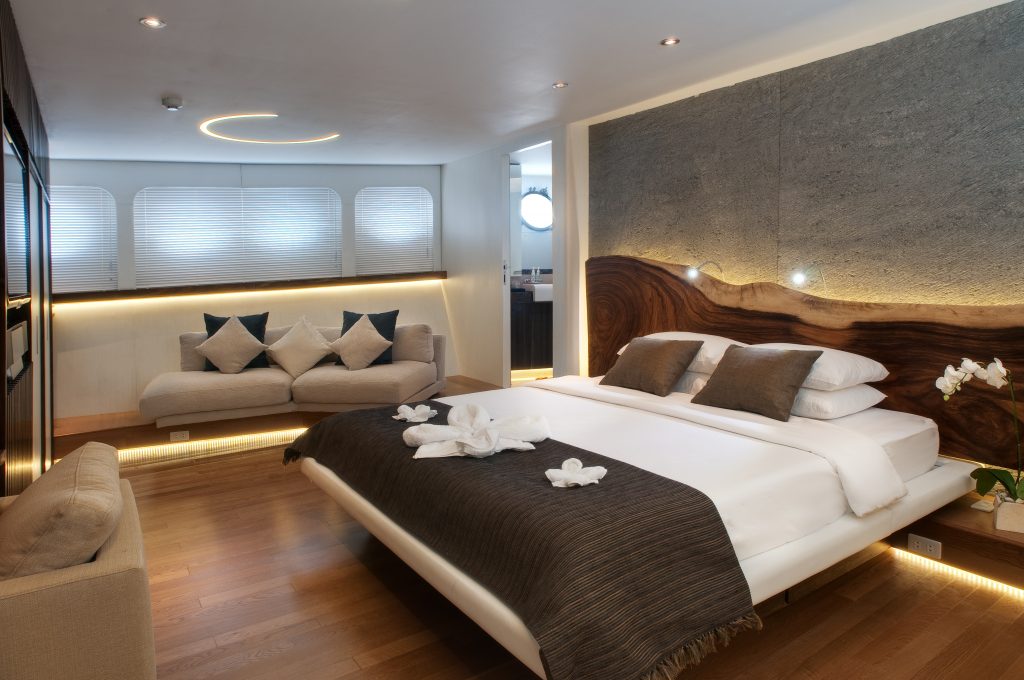 The beautiful master suite that spans the full width of the vessel (and occupies the entire bow on main deck) offers all the comforts of home and is the most spacious cabin available on any dedicated dive motor-yacht that we know of.
A King Size bed offers relaxing and restful sleep. A generously proportioned lounge with a love seat provide the perfect place to watch videos on the HD flatpanel TV with Blu-ray DVD player, listen to music, read, or work on your laptop – in total privacy. The roomy bathroom is contemporary in decor and equipment, featuring top of the line rainforest shower and vanity fittings.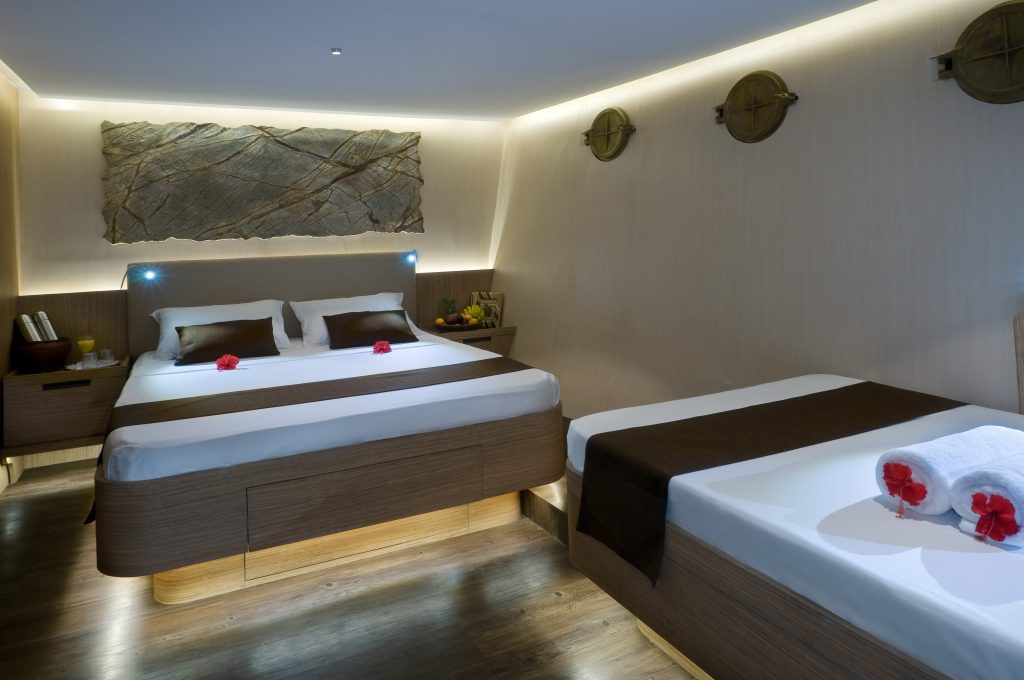 The Superlux cabins offer fresh, bright spa-like environments for guests. From the spacious floor plan, to the wall art and the smallest decor details, these cabins evoke a feeling of tranquility and restfulness. Both of these cabins feature a walk-around, queen-size bed and separate day bed/generously proportioned extra bed. No need to climb over your partner in the middle of the night to reach the bathroom or in search of a drink!
Hanging bedside tables, floor-to-ceiling wardrobes and large drawers under the beds offer guests ample space to store personal items. Adjustable, high-intensity reading lights hang from the headboards for convenient night-time reading. Spaciousness extends into the beautiful bathrooms featuring a glass shower area, a big vanity with spa-like fixtures and great lighting. These cabins are air conditioned with private controls.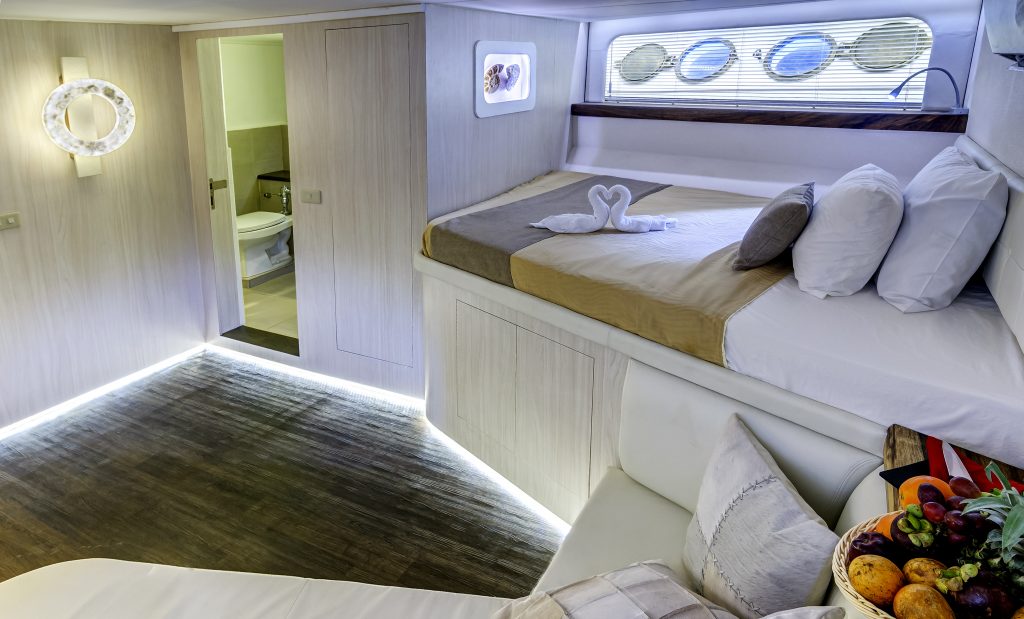 The efficient layout of the deluxe cabin creates the perfect accommodation for a couple or two dive buddies looking for their own space. This cabin features two beds; one wide enough for two people, the other accommodates one person. plenty of large cupboards and a small loveseat offers a place to sit, read, and maintain your dive log or work on your laptop. This cabin also has a spacious bathroom with shower and toilet. Air conditioned with private controls.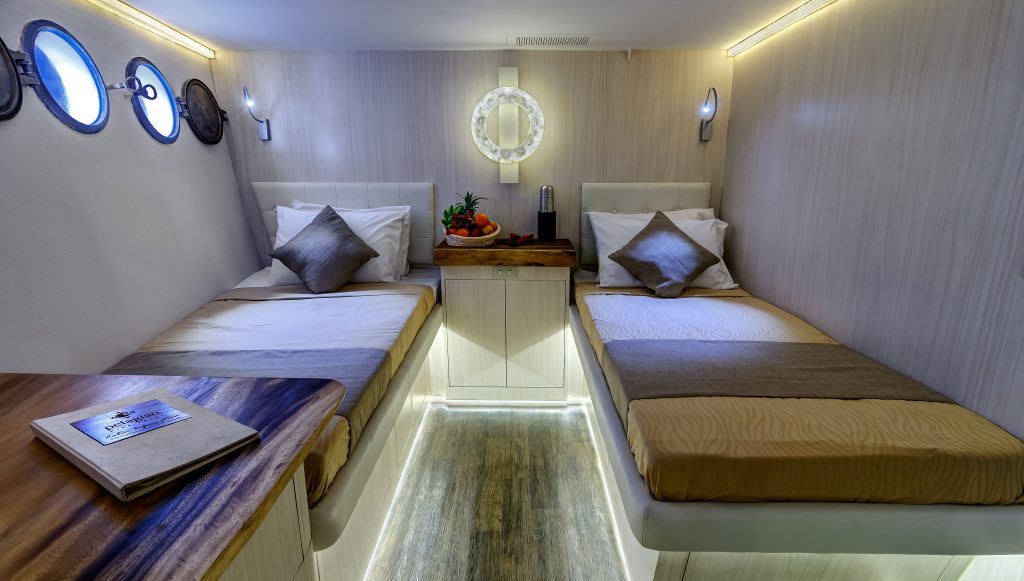 For divers who tend to focus more on the boat's common areas (and their diving) than on having the largest cabin onboard. The standard cabin features two single beds arranged opposite each other. Built-in storage is provided for stowing personal items. This cabin also has a newly-remodeled bathroom with shower and toilet and is air-conditioned with private control.